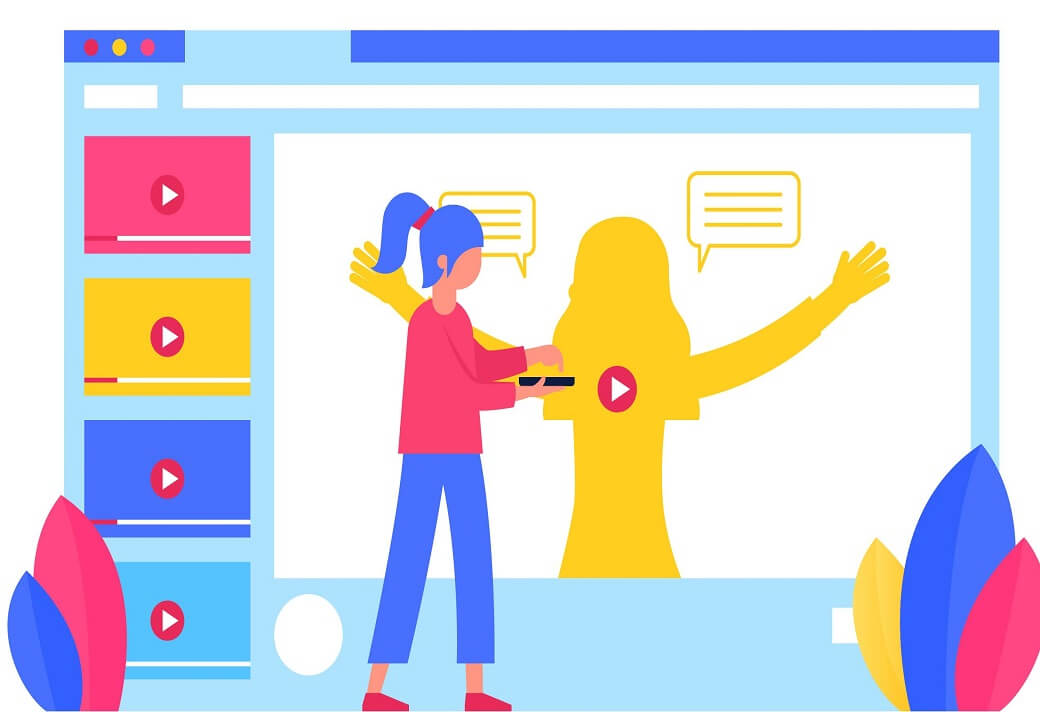 What is an interactive video ad?

As the name implies, interactive video ads are a type of video advertising that try to engage users by accepting user input and/or incorporating enhanced ad elements like forms, external links, polls, and more. These elements offer functions and user interactions beyond the simple play/pause/rewind controls afforded by standard video. Interactive video gives the audience more avenues for engaging with ad materials, with the goal of cultivating deeper impressions and greater brand attachments on the audience's part.
More and more advertisers have been turning to the interactive video, due in large part to its quantifiable advantages over standard video ads. Market research and industry studies in recent years have seen interactive video outpacing standard video ads on key performance metrics like audience engagement and ad completion rates. It's no surprise, then, that many industry experts predict that interactive video will see more use in the future, especially in tandem with social media and over-the-top content.
How do interactive ads work?

Interactive ads can take many forms. They can be as simple as call-to-action overlays that appear at predetermined points in a video ad, or as complex as full-blown "playable" video ads that use prompts and software logic to tailor the flow of an ad experience according to the viewer's input. Emerging technologies like virtual reality, augmented reality, and 360-degree video have also opened up fresh opportunities for interactive video, giving advertisers more tools with which to craft unique ads that invite a greater degree of participation from users.
Various protocols and systems have also been developed to support the growth of interactive video. Different publishing platforms, for example, continue improving their video players to support new interactive media technology. Facebook's support for 360-degree video is but one prominent example, as are various livestreaming platforms (e.g., on Twitch, Instagram, Twitter's Periscope, etc.) that now come with increasingly sophisticated user interaction spaces.
On the advertising side, meanwhile, one of the most important developments comes from the Interactive Advertising Bureau. With the IAB's VPAID API, which allows advertisers to deploy interactive elements that work with any and all compliant video players, interactive video advertising campaigns can be launched on broader scales, with greater ease, and at much lower costs than before. If you'd like to learn more about how VPAID works, we discuss the protocol in more depth here.
What can interactive ads do for you?

Interactive ads present a number of advantages for advertisers, a number of which are also as a result of the crowded advertising environment that characterizes today's digital media landscape.
In recent years, industry research studies from various sources have presented evidence of interactive video's advantages over standard video ads. Several studies from 2015, for example, showed that interactive video ads tended to outperform standard video on key indicators like ad completion rates and impressions served. Interactive video ads reported an average completion rate of 85%, a significant jump from the 79% registered by standard video.
Reports from the following years have only underscored interactive video's promising effects. A video benchmark report released by the IAB in 2016, for example, stated that interactive video continued to outpace standard counterparts on all performance metrics. In terms of viewer engagement, interactive video also garnered almost six times the responses received by standard ads.
In the noisy, crowded world of digital video advertising, then, interactive video ads offer a way to stand out and leave indelible impressions on your target audience. The richer interactions and engagement facilitated by interactive elements encourage deeper investment from viewers, boosting the overall effectiveness of your ad campaigns. Interactive elements offer more options for ad design, too, giving advertisers more space to get creative with their ads.
It's also worth noting that interactive ads have a greater capacity for capturing crucial viewer data. With more avenues for user engagement, interactive ads can collect more data — and of more varied types — than standard ads. Whether through overlay questionnaires that directly solicit information from customers, or through records of behavior and preferences gleaned from in-ad viewer choices, interactive ads give advertisers more information for optimizing
Ultimately, interactive video ads come with higher chances of converting target viewers to bona fide leads and consumers, meaning you get greater bang for every buck you spend on your advertising efforts.
It's not all roses for interactive ads, though. The breakneck pace of technological development for digital video (and the digital media landscape in general) creates significant challenges for interactive video. The tech world's shift from Flash to HTML5 and Javascript — most prominently signaled by Chrome dropping support for Flash — presents compatibility issues, even with the standardized VPAID API. As recently as 2016, 98% of interactive video content was Flash-based; though digital video infrastructure, including VPAID, has since shifted to HTML5 in a big way, the transition has not been as swift or comprehensive as would have been convenient for the industry.
Likewise, the growing popularity of mobile platforms presents unique problems for advertisers intent on reaching those audiences. The intrinsic differences between mobile and desktop, starting with an attribute as basic but essential as screen size, suggest that desktop-grown designs and practices can't be seamlessly ported to mobile platforms. Compared to desktop-oriented interactive video systems, mobile-specific interactive video infrastructure remains relatively underdeveloped.