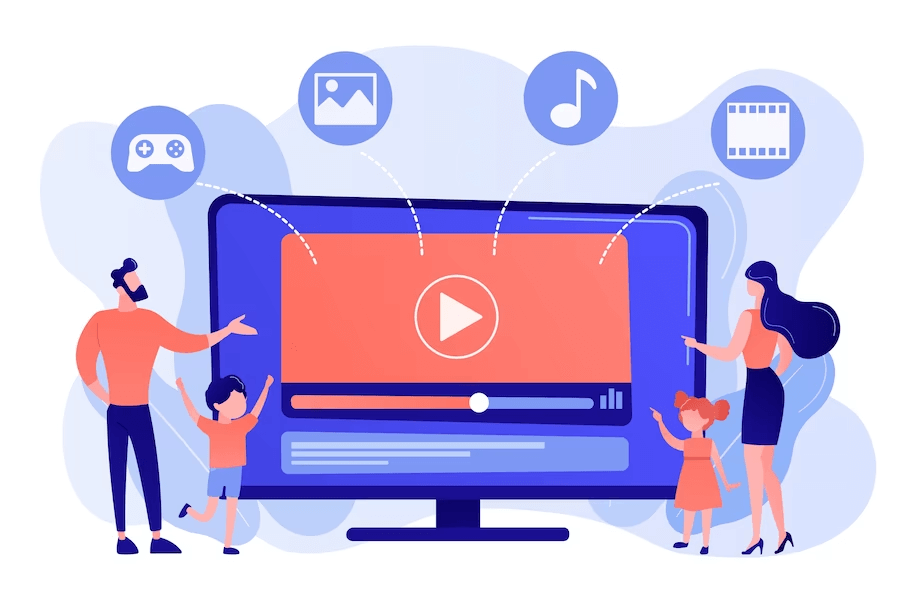 A Glimpse at Future Trends in TV Marketing and Advertising
Digital ad spending first surpassed TV advertising spending back in 2016. And as of this year, analysts have projected that ad spending for television will take up less than a third of all marketing budgets. The profitability of digital ads has far outpaced TV advertising, leaving the future of TV marketing uncertain.
This growth has forced TV advertising tactics to evolve to remain a viable advertising option. It's not different from how Aniview's clients change their online ads in response to evolving digital marketing landscapes.
The Decline of Television Marketing
TV advertising used to be the pinnacle of marketing methods as it instantly broadcasts a brand to millions of viewers. The largest enterprises jockeyed for slots during primetime. One prominent example is the annual unofficial competition to get TV ad placement during the Super Bowl. While big-ticket events like sports and awards shows are still profitable for TV ads, the rest of the market has faltered.
The future of TV marketing wavered last year as the effects of cord-cutting emerged. TV ad sales dropped by nearly eight percent, the largest drop in ad spending for the format in 20 years. Sales at cable networks also fell for the first time in the past ten years.
Trends that Prove TV Marketing is Adapting
TV marketing is trying to adapt to regain the audience's interest. And the majority of the ways they have been attempting to do so is by patterning the advertising after current digital marketing ads.
Using Video on Demand to Reach Customers
Ad-supported video on demand is patterned after the unskippable ads that play before online videos. These services bring advertisements to a TV audience who have to view the commercial before accessing free content.
Focusing on Social Good
Online culture places a high value on social good. Uplifting, positive online videos are often popular and receive plenty of engagement. TV advertising is trying the same tactic by creating commercials that focus on social good, targeting their audience's emotions. Not only is it a great storytelling method, but it also heightens brand recall if the story resonates with the audience.
Hashtags are a digital marketing campaign tool that puts a topic, a company, a motto, or a concept in the spotlight in social media. TV advertising is now connecting TV with digital marketing through catchy hashtags on screen. Consumers who see the commercial on TV can use the hashtag on social media to respond to it.
For example, award shows now display multiple hashtags about the show, the presented award, or the nominees on TV. It gets the audience's attention and prompts them to use the tag on social media, generating engagement.
Addressable TV
Targeted video ads are familiar to digital marketing as they personalize the audience's ad experience. Users browsing online will see ads targeted to their interests and browsing history.
In the same way, addressable TV marketing will only show ads to specific households that show interest in the product or service. Advertisers and service providers do this through set-top boxes. It's similar to how Video on Demand gets delivered to homes.
Dynamic Ad Insertion
An example of dynamic ads is TV commercials that start playing in the corner or side of the screen while a show or event is being broadcast. It essentially shares the screen with the show. This often happens during sports events during timeouts or breaks.
Advertisers can combine this tactic with addressable TV. An ad that plays in dynamically in one household may not be the same ad seen in a neighboring home.
Following Digital Ads' Lead
The future of TV marketing is in digital advertising, which has now become the standard. The innovations and technology that develop digital ads are currently the most effective method of reaching an audience.
For companies to keep up with the times, they need digital advertising alongside their TV ads. They can reach broader audiences and even bridge the two together, covering both formats.
Aniview specializes in bringing companies world-class digital ad video services and connects them with major publishers and advertisers. Learn more about our products and solutions for digital marketing platforms.
Contact us today to future-proof your company's advertising.