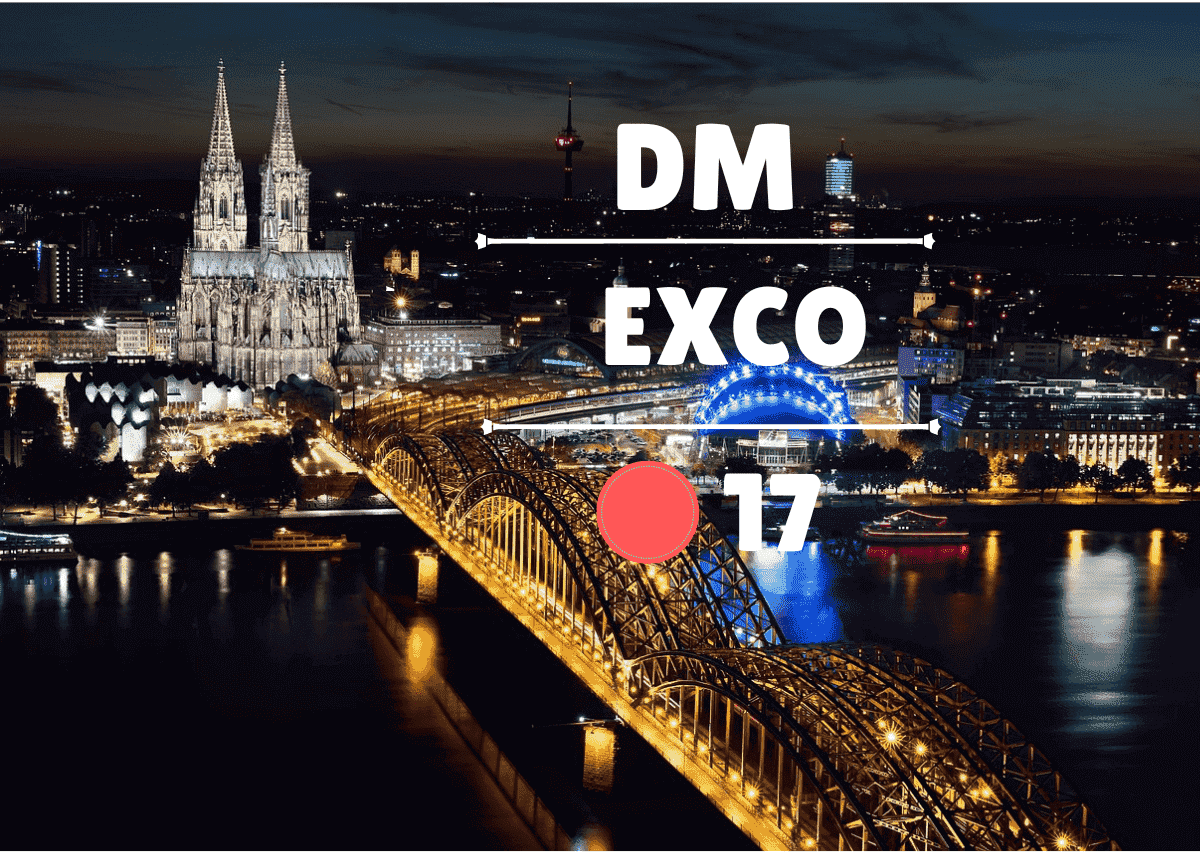 Checking Out Cologne · Dmexco 2017
Kölner Dom
Also known as Cologne Cathedral, this site's iconic twin towers strike one of the most impressive figures in the city's skyline.
Completed in 1880, the cathedral features stunning Gothic architecture and a long and storied history as one of the Holy Roman Empire's premier churches. It was declared a World Heritage Site in 1996. With an average of 20,000 visitors a day, Kölner Dom enjoys the distinction of being Germany's most visited landmark.
For a truly memorable experience, we recommend climbing the 533 steps up to the Dom's south tower.
Website: www.koelner-dom.de
Location: ContaHeinrich-Böll-Platz
Entrance fee: €4
Hours: 6AM-9PM
Ludwig Museum
Once you've had your fill of Germany's medieval heritage, it's time to check out one of Cologne's modern cultural hubs. The Ludwig Museum is a short walk from the Cologne Cathedral, and it's definitely worth a stop. You'll find a variety of modern art here, in a rich collection that grew from a 350-piece endowment by the museum's original patron, industry titan Peter Ludwig. The museum houses Europe's third largest Picasso collection, as well as works from Andy Warhol, Roy Lichtenstein, Marc Chagall, and other artists from the Modernist, Expressionist, Surrealist, and Pop Art traditions. Fancy something a bit more cutting-edge? Head straight for the museum's extensive display of early Russian avant-garde pieces – considered the largest collection outside Russia.
The Ludwig Museum also serves as a permanent host to the Kölner Philharmonic, so save some time for a concert in the museum hall directly beneath Heinrich-Böll-Platz.
Website: http://www.museum-ludwig.de
Location: Heinrich-Böll-Platz 50667 Köln
Entrance Fee: €12
Hours: Tue to Sun, 10 AM to 6 PM
If you're going to be in Cologne for the Dmexco Conference, you'll be there in time for the Ludwig Museum's latest exhibit: art from the collection of Cologne-based restorer Wolfgang Hahn. Browse representative works of Nouveau Réalisme, Fluxus, Happenings, Pop and Conceptual Art, and more from the Rhineland's premier 1960s art revolutionaries.
Collector Wolfgang Hahn and the 60s – Art Into Life!
Running from: June 24 – September 24, 2017
The Rheinpark
Marvel at the sparkling waters of the Rhine from the spacious lawns and facilities of one of Germany's best parks. The Rheinpark features an open-air theater, a Roman-style public bath, and plenty of room for sports, strolls, or plain old lounging around. Pack a picnic basket for a relaxing lunch by the river, or invite your whole team for some fun and games. Apart from all that, you can also check out the Kölner Rhein-Seilbahn, or "Cologne Rhine Cable Car"for an unforgettable panoramic view of the Rhine.
The RGM (Romisch-Germanisches Museum)
Speaking of Roman baths, you can learn more about the city's Roman heritage at The Romano-Germanic Museum, which is also a short walk from the Cologne Cathedral. Considered one of the best archeological museums in Europe, the RGM houses a vast collection of artifacts, mosaics, and glassware from the ancient Roman settlements that preceded the modern city of Cologne. Exhibit highlights include a gorgeous mosaic of the Roman god Dionysus, the magnificent mausoleum of the legionary Lucius Publicis, and an impressive collection of Roman glass from various burial sites.
Website: www.roemisch-germanisches-museum.de
Location: Roncalliplatz 4 50667 Köln
Entrance Fee: € 8
Hours: Tue to Sun, 10 AM to 5 PM.
Kölntriangle
Also known as Triangle Tower, this high-rise building comes in at a little over 103 meters and stands just across the Rhine from the Cologne Cathedral. This steel-and-glass marvel serves as the headquarters for the European Aviation Safety Agency. Most of the tower's 29 floors are closed to visitors, but you can take the elevator straight up to the rooftop observation deck for a gorgeous panoramic view of the city.  Snap some great skyline photos, check out the public exhibitions, and maybe pair the view with some Asian or Mediterranean dishes from the observation deck's two restaurants.
Website: http://www.koelntrianglepanorama.de/en/
Location: Ottopl. 1, 50679 Köln
Entrance Fee: € 3
Hours: Mon to Fri,11 AM to 11 PM. Sat and Sun,10 AM to 11 PM
The Köln Chocolate Museum
At the Imhoff-Schokoladenmuseum, you're in for a treat! With its partner, Swiss chocolate company Lindt & Sprüngli, Cologne's Chocolate Museum lets visitors in on the rich history and science behind the world's favorite food. You'll find guided tours and nine exhibits on the cultural traditions and histories of chocolate from all over the world, a tepidarium that features different cacao trees, and artifacts going from 18th century Mesoamerica all the way to the technological marvels that create the world's chocolate supply today.
Best of all, there's a 3-meter-high chocolate fountain where you can dip free wafers, as well as a chocolate café offering everything from hot chocolate to fresh waffles, fondants, crêpes, and other indulgent chocolate creations. Savor a few truffles, sit down for a hot drink, and snap some photos of the museum's unique metal-and-glass architecture while you're there.
You'll find this little bit of heaven on the Rheinau harbor by the Old Town district. Like most of the entries on this list, the museum's just a short walk from the Cologne Cathedral. Drop by early if you can – with an average of 675,000 visitors a year, the Chocolate Museum's delights will have to be shared.
Website: http://www.schokoladenmuseum.de/en/
Location: Am Schokoladenmuseum 1A, 50678 Köln
Entrance Fee: € 11,50
Hours: Mon to Fri, 10 AM to 6 PM. Sat and Sun, 11 AM to 7 PM