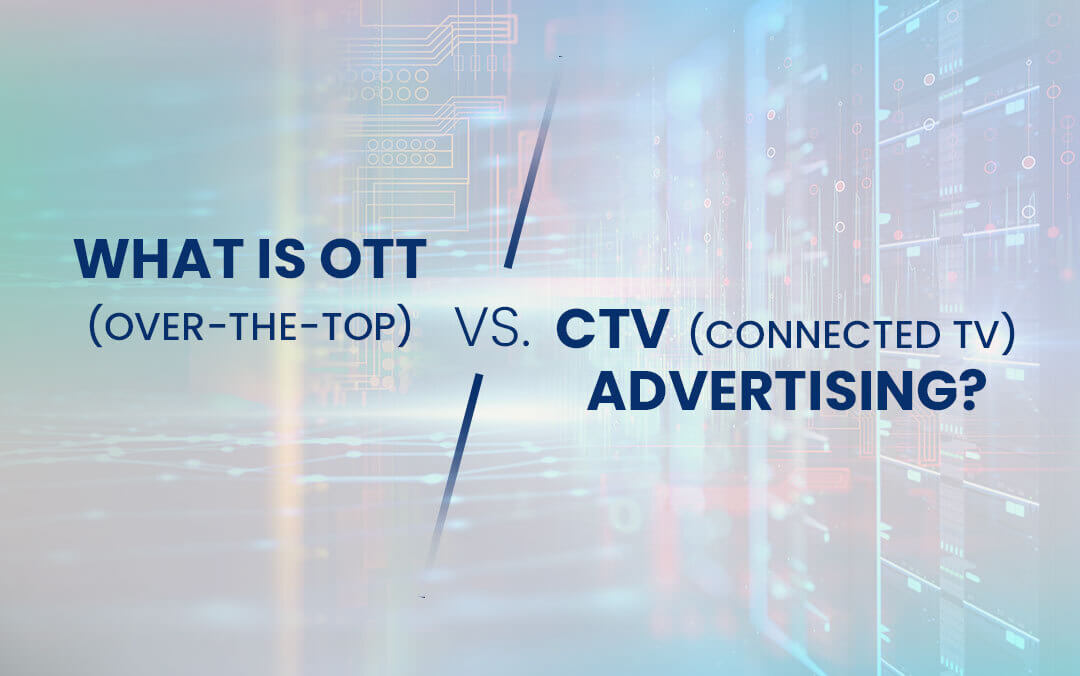 What is OTT (Over-The-Top) vs. CTV (Connected TV) Advertising?
The advertising and marketing industry is full of acronyms, which can be confusing, especially when you are introduced to the rapidly emerging realm of Connected TVs and OTT. Concepts around "CTV advertising, OTT advertising, and whether they are different", are still confusing to many. We get asked about these terms so often that we have put together this quick guide to clarify the confusion.
These terms are mostly used interchangeably or are confused with one another since they refer to related aspects of digital advertising for television. However, while developing your omnichannel advertising strategy, it is essential to be aware of the similarities and the similarities between them.
Now, let's take a deeper look at what OTT and CTV mean- and the difference between CTV advertising and OTT advertising.
What is OTT?
OTT or "Over-the-Top" refers to video content accessible via the internet over the traditional television system, such as satellite or cable TV via any set-top-box(STB). To gain more clarity about what is OTT, we need to understand here that viewers do not need to pay or subscribe to a satellite TV or cable company to watch video content as the content is streamed via the Internet.
The term "OTT" should not be used to refer to the devices on which viewers are watching OTT content. This is simply because viewers can stream OTT content on various devices such as smartphones, laptops, tablets, or connected TVs. Some popular over-the-top platforms include Netflix, Disney+, Hulu, and Apple TV+.
What is OTT Advertising?
Talking about OTT advertising, also popularly known as "streaming TV or over-the-top advertising," refers to the advertisements that are directly served to the viewers of media channels that use over-the-top technology. It can be done in a number of ways:
Programmatic:

In programmatic advertising, automation is used for over-the-top advertising across multiple networks via demand-side platforms(DSPs). Programmatic ad delivery is cost-effective and enables better targeting.

Platform direct:

In platform direct advertising, you can buy ads directly from the OTT device provider, such as Amazon Fire TV or Roku.

Publisher direct:

In this case, the ad exchange happens directly with the OTT service providers. Despite being costly, direct means of over-the-top advertising provides more control over ad placement.
Benefits of OTT Advertising
Brand safety:

Ads are served during on-demand or live streaming.

Growth in reach:

You can reach viewers across popular content and top-tier networks with OTT ads.

100% Viewability:

As all OTT advertisements run full screen, 100% of pixels are viewed. Moreover, below-the-fold ads of other media options are eliminated.

Near-perfect completion rate:

Over-the-top ads have an average completion rate of around 98%, meaning viewers watch the advertisements until the end.
What is CTV?
CTV is an abbreviation for "Connected TV" and refers to any television set that can be used to stream video content over the internet. These are typically videos that are streamed via downloaded apps. Smart TVs, connected devices like Apple TV, Amazon Fire Stick, Chromecast, Roku, and gaming consoles like PlayStation and Xbox that act as connected devices with built-in access for streaming video content are a few examples of CTVs.
What is CTV Advertising?
Connected TV advertising refers to a form of online video advertising that appear within the streaming content in smart TVs, streaming devices, and connected devices. These video ads are professionally produced and are similar to conventional TV ads. However, CTV advertising campaigns can be supported by any device connected to the Internet. These ads are set to be displayed at various points during the playback of television shows or livestreams. So, viewers can see the same ads that they normally view on mobile phones. Connected TV advertising is fully measurable and highly targetable. It reaches the right viewers and delivers ads to impact and drive user action to support demand generation.
After gaining conceptual clarity about "what is CTV advertising", we can now understand the advantages it brings to publishers and advertisers.
Benefits of CTV Advertising
With connected TV advertising, advertisers can reach television viewers that they can't reach without conventional TV commercials.
Better Targeting Capabilities:

With CTV advertising, ads are optimally served to the intended viewers.

Measurable Outcomes:

With programmatic platforms, you can track traditional and digital metrics, such as video completion rates of your CTV ad campaign results.

Expanding audience segments:

You can target millennials as well as the audience segment that does not use cable TV( also popularly known as cord-cutters).
What is OTT vs. CTV Advertising?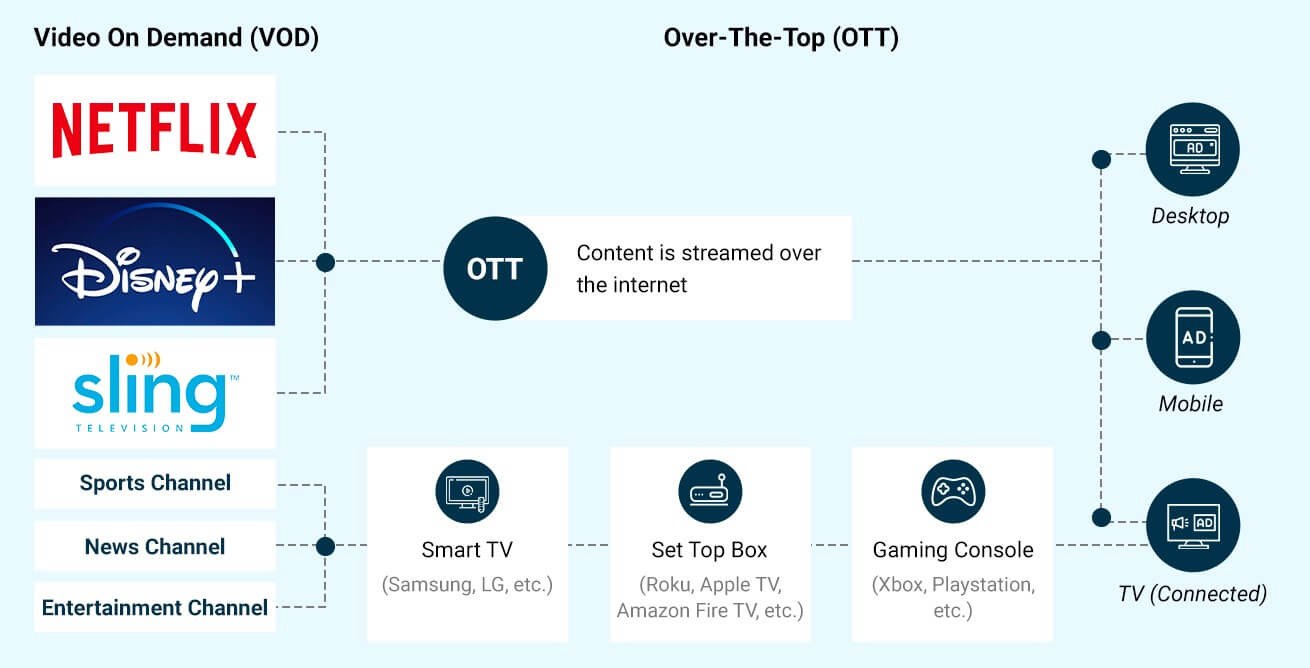 As OTT refers to the technology that delivers content to users online, CTV refers to the various internet-compatible devices that display video content. One of the major differences between OTT and CTV advertising is that OTT advertisements are basically served as video advertisements within the video content. On the other hand, CTV ads are delivered alongside applications installed on CTV devices or the homepage of the devices.
When served exclusively on TV, OTT advertising also transforms it into a channel for performance marketing. This allows advertisers to target audiences on their CTV/OTT devices across FAST channels or ad-supported shows on premium networks by using either first or third-party data. Such networks differ depending on the connected TV advertising platform you use.
Final thoughts!
One key takeaway from this article is that OTT and CTV advertising are quite often used interchangeably. The most crucial distinction is that OTT ads can be served via mobile and desktop devices, whereas CTV ads can only be served on TV screens.
Undoubtedly, video consumption will continue evolving from traditional television to the internet-based dominance of OTT and CTV. Advertisers should leverage this shift and capitalize on the advantages of CTV and OTT. Are you ready to dive in?
Aniview offers complete CTV & OTT monetization solutions with seamless ad stitching via Server-Side-Ad Insertion, Dynamic Ad Insertion and capabilities of Aniview Ad Server.
For your next step in data-driven advertising,
Get a Demo today!