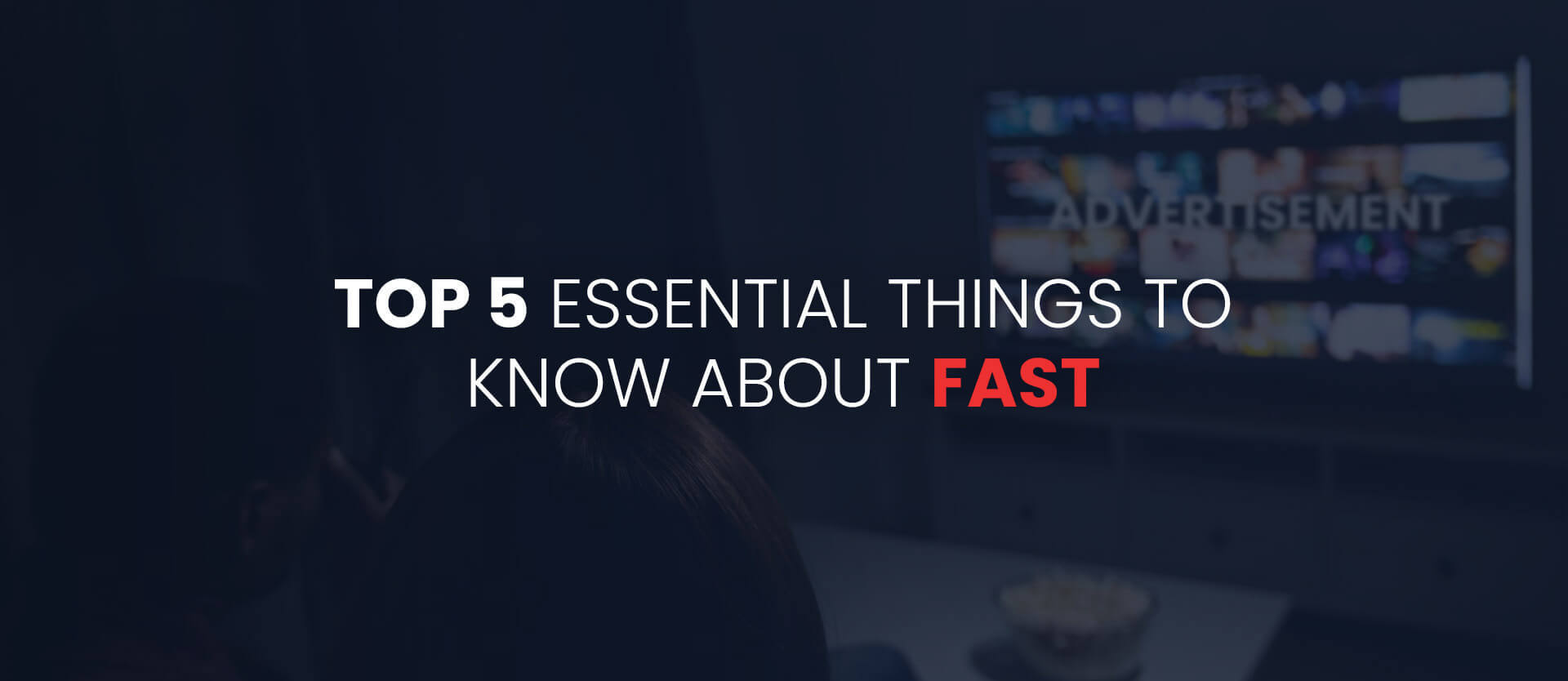 Top 5 Essential Things to Know about FAST
The fragmentation of the SVOD market in the last few years has affected three key participants- viewers, content owners or publishers, and advertisers. Getting hit by the paradox of too many content choices over subscription platforms, viewers are seeking a free-lean back viewing experience. The ripple effect- content owners want to tap into this underserved audience segment seeking free personalized content and generate ad revenues. And advertisers and brands want to reach global consumers with video ads. Enters FAST TV channel, combining free content viewership, ad revenue generation, and expanded reach, all in a new, linear content delivery model.
Whether you are a content producer, media company, corporate, or brand, launching a FAST TV channel can help you maximize your revenue, even by offering free content.
This quick guide will cover the top five essential things you need to know about FAST channels.
So let's get started!
What is FAST?
"FAST" or "Free Ad-Supported Streaming TV" refers to an OTT content distribution model where viewers get free access to linear TV channels. It is an extended version of traditional television streamed over internet-connected devices such as Connected TVs.
Free ad-supported TV channels stream video content or programs that users usually watch over television. These include old TV shows, movies, and a mix of traditional television and digital programs. Users can access such content without paying for any subscription. And the revenue in FAST channels is generated by delivering targeted ads to users as a part of their viewing experience.
Difference between FAST and AVOD
Both FAST and AVOD are content monetization methods and are sometimes used interchangeably. Though FAST might seem similar to AVOD, it is not! They differ from each other in ways such as:
Content offering:
FAST channels are completely free for viewers. In free ad-supported streaming TV channels, broadcasters monetize their video content through advertisements.
On the other hand, content access in "Advertising-based Video On-Demand" is partially free to users. Though ads are the main source of revenue generation, the AVOD monetization model can also include other content monetization methods, such as subscriptions.
Content delivery method:
FAST channels do not maintain a content library and have linear, scheduled programming similar to traditional television channels. Thus, viewers can choose a channel but cannot select or decide which video content will be streamed next. So, viewers can only watch content that is being streamed at that moment.
However, AVOD is the monetization method for video-on-demand content for which a content library is maintained. This provides viewers with the flexibility to choose and watch any video content that they like.
Some examples of FAST channels are Xumo, Samsung Live TV, and IMDBTV, whereas MX player and Disney+ Hostar are a few examples of AVOD platforms.
Why are video streaming services choosing FAST(Free Ad-Supported TV)?
Lower Barriers to Entry:
Offering free content also means having a lower entry barrier for new OTT users. And this drives more viewers into the streaming fold.
Moreover, FAST's linear, fixed-scheduled programming model eliminates brand indifference complexity arising due to the availability of countless content choices. This helps streaming services gain more loyal viewers who are willing to watch any content that is available for free.
Overcome Subscription Fatigue:
FAST channels are helping streaming services overcome subscription fatigue, which refers to the growing discontent among users with subscription-based services. Viewers are overwhelmed by paying multiple subscription fees to gain access to a variety of content across various OTT platforms. This has significantly reduced the number of subscribers for many video streaming platforms.
Numbers speak for it-
1. According to a report by Statista, viewers now prefer watching video ads to reduce or eliminate subscription costs.
2. The number of users is forecasted to reach 1.10 billion by 2027.
3. The ad revenue for FAST TV in the US is expected to hit 6 billion USD by 2025.
Monetization of Diverse Content:
Free Ad-Supported TV offers the opportunity to monetize any content, be it new, old, seasonal, popular, or archived movies, TV shows, holiday content, or old sports matches. So, publishers, media houses, traditional broadcasters, and content owners can rely on FAST for accelerating revenue growth.
Complete Ad Viewability:
FAST channels are also preferred by advertisers as viewers can view non-skippable ads completely. Thus, viewers cannot simply skip the ad to resume content playback.
How is FAST affecting OTT platforms and traditional TV broadcasters?
To begin with, the video content ecosystem, as a whole, is currently affected by factors like subscription fatigue, diverse video content, increasing demand for more engaging viewing experiences, etc. It is the OTT platforms and traditional broadcasters who are experiencing the brunt.
With the integration of FAST, OTT platforms can offer free scheduled video content to viewers. This can retain a significant fragment of the audience segment that would have otherwise canceled their subscriptions. Moreover, video streaming platforms can drive a new audience segment that was never interested in paying for streaming service subscriptions.
Traditional broadcasters, in this regard, can reap more advantages from incorporating FAST channels. FAST allows broadcasters to monetize any video content, including archived ones, which will enable them to maximize revenue generation.
As the number of OTT subscriptions continues to drop, the number of free ad-supported TV channels continues to increase rapidly. This suggests major shifts in viewer behavior. Audiences' preferences keep changing, and they choose content channels that cater to such changing needs.
Whether to adapt to changing market conditions and adopt the FAST content delivery method or die out is the discretion of the broadcasters and OTT platforms.
How to launch your Free Ad-Supported TV channel?
Define a Powerful Content Strategy
The first step to launch your FAST channel is to have a power-packed video content strategy. Select the kind of video content that would work well for your FAST TV channel. Compare the genre of your content with videos that are already streamed. As a broadcaster or content owner, you can refrain from streaming premium content on your free ad-supported channel. However, FAST channels with thematic content attract and engage audience more.
Build an extensive library with high-quality video content for your preferred audience segments. Ensure that your content is highly engaging so that your audience would prefer to resume viewing once the ad breaks end.
Select the Right Tech Partner
Defining content strategy is not enough if you have not figured out the right tech partner for content distribution. This is a vital step as the launch, maintenance, and overall success of your Free Ad Supported TV channel will depend on the competence of your tech platform.
The strategy for a successful FAST TV channel incorporates maintenance and distribution of video content along with dynamically inserting relevant, targeted ads for your viewers. Choose a FAST channel platform that efficiently deals with your content distribution. Ensure that they offer a customizable, easy-to-use video player with multiple built-in templates, a dashboard for a complete overview of your channel, and the flexibility to manage content and ads both programmatically and manually.
With the right platform partner, you can distribute content and grow your FAST TV channel at scale. You can deliver content across connected TV and AVOD platforms to diversify your content distribution portfolio.
To stay ahead in the FAST lane, the right tech partner will also help you with end-to-end content management, distribution, and agreements.
Plan End-to-End Monetizing Strategy
The entire game of FAST channels is about monetizing your video content at no cost to the viewer. The key advantage of creating a FAST channel compared to traditional broadcast is the ability to generate higher revenue from advertising in "CPM"(cost per mile). In the advertising industry, CPM refers to the amount you receive per 1000 ad impressions or views. You can generate higher CPM with FAST channels due to Dynamic Ad Insertion(SSAI or Server-Side Ad Insertion).
The tech partner having DAI technology will enable you to deliver relevant, targeted, and unskippable ads to your viewers.
You can also set floor price for minimum CPM to display ads on your FAST TV channel. This enables multiple advertisers to bid for an ad slot on your channel. You can then select the bid with the highest amount for generating maximum ad revenue.
It would be best to create an advertising strategy for content monetization. A robust adtech stack that enables you to access in-depth analytics and real-time reporting can help you deliver targeted ads and maximize fill rates. You can strategize a revenue share model with your distribution partner. New video content or FAST channel owners prefer a revenue share model, while big media houses with ad teams find an inventory model appropriate.
Wrapping Up!
Getting your own FAST channel is a complex and tedious task. However, with the right platform that is backed by all the required features, you can get it up and running without breaking a sweat!
Aniview offers complete CTV/OTT monetization solutions for Free Ad-Supported TV channels. Its state-of-the-art ad tech solution brings Dynamic Ad Insertion, Video Ad Server, and Premium Marketplace all in one platform.
To explore more about the Aniview Platform, Book your Demo now!