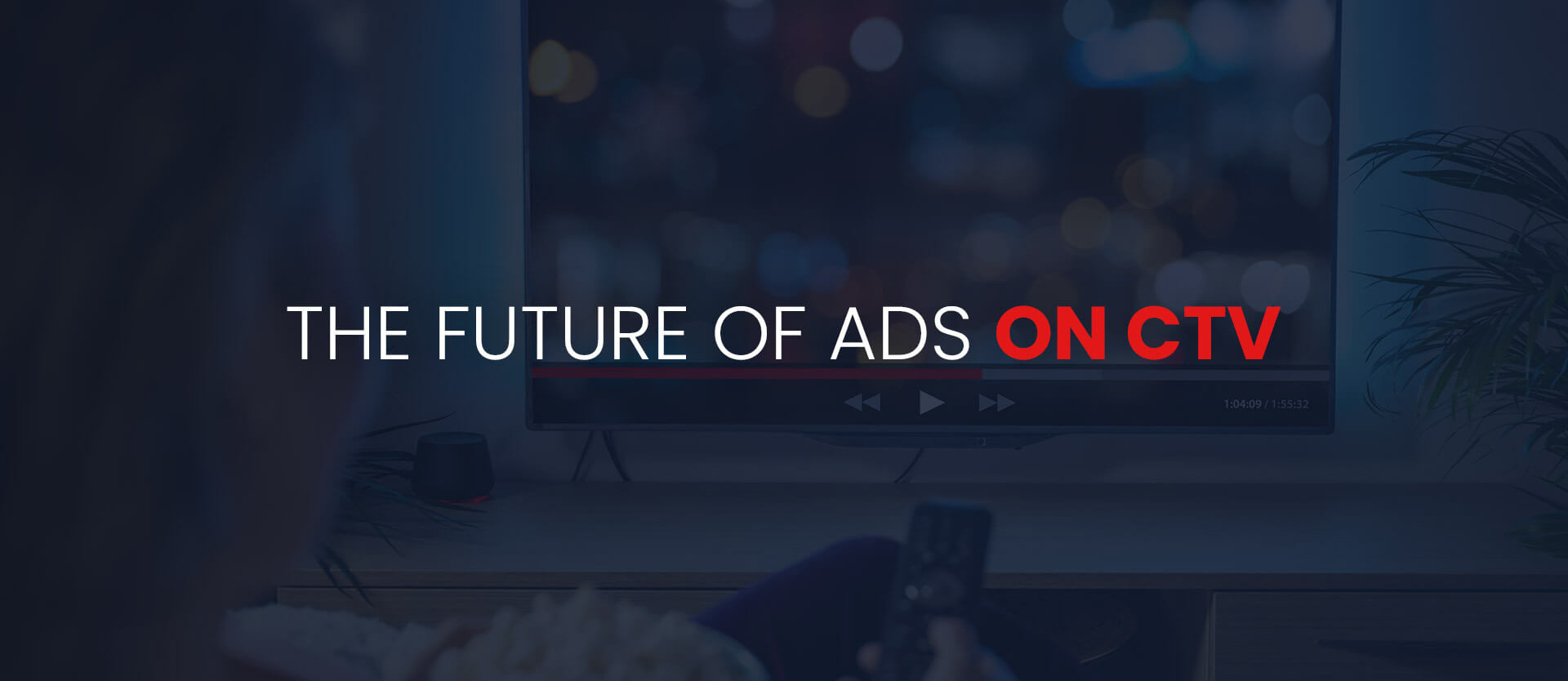 Bringing the best of digital content and linear TV, CTV is now the fastest-growing video advertising platform. What was considered a supplement to linear TV is now becoming one of the key channels to reach consumers.  CTV advertising has given brands and advertisers many opportunities to thrive. Studies suggest that CTV viewership was at a record high in 2022, eventually surpassing linear television viewership. As CTV consumption continues to skyrocket, advertisers and brands seek to capitalize on viewers' attention. Does this indicate a real breakthrough- a promising future of ads on CTV?  Let's find out!
It all starts with how CTV has influenced consumer behavior:
Ads on Connected TVs influence consumer behavior of almost all age groups. And this is mainly because CTV, as a medium, improves the audience experience of a brand via varying types of advertising. 

CTVs offer brands opportunities to build a deeper connection with highly engaged viewers. Thus, they easily seep into a brand-friendly ecosystem where viewers accept and interact with them. 

Connected TV has outperformed traditional TV in terms of effective targeting and other key indicators, such as behavioral attributes, demographics, brand searches, product purchases, location, in-store or app visits, etc. 

The number of people turning to CTV is also growing since they prefer watching their favorite series content for free in a FAST(Free-ad-supported TV environment). This preference is observed by over 70% of US users. 
What do numbers suggest about the Future of Ads on CTV?
CTV is gaining momentum as streaming outperforms broadcast and cable TV in viewing time. As the key driving component of digital video growth, CTV is expected to surpass linear TV by

2024.

 

Reports suggest that

 86%

of viewers are willing to see CTV ads that are either relevant to them or entertaining. This is the crucial reason buyers are strategizing a significant increase in their CTV advertising budget for 2023.

As per reports by IAB, buyers are reallocating ad spending on CTV from cable TV(52%) and broadcast (53%) advertising. And by 2026, CTV ad spending is expected to double to

$38.83 billion

, accounting for more than 10% of all digital ad spending.

With new ad-supported models of streaming giants like Netflix and Disney, advertisers are aware of the good times coming ahead for CTV ads. 
More reasons why advertisers are considering CTV advertising as the future:
1. Popularity
With one-third of US households preferring streaming as their primary source of TV entertainment, CTV is now considered mainstream. Users worldwide are switching to Smart TVs and preferring over-the-top (OTT) streaming content over cable TV subscriptions. Younger audiences, including millennials and Gen Z, prefer watching video content streamed by OTT giants. The number of millennials among monthly CTV users in 2022 was around 60.5 million, and it is forecasted to grow by 2.1 million, hitting 62.6 million by 2025. Such high competition also indicates two key factors: 1) better package offerings and 2) more frequent content tweaking to cater to every audience segment.
2. Better Audience Targeting
Advertisers and marketers can target more relevant audience segments as the information available via CTV advertising includes consumer demographics, preferences, and interests. CTV ads can reach further down the funnel with more precise targeting, enabling viewers to take more action.
On the other hand, traditional TV ads mostly revolve around brand awareness campaigns targeting a broader audience.
3. Higher ROI
CTV ad impressions account for around half of all video ad impressions. And most of the CTV ads are not skippable, thus, requiring viewers to continue the playback if they want to keep watching the video content. Most viewers are willing to watch such ads in exchange for free video content. This gives advertisers a much higher return on investment when compared to conventional television advertising.
4. Competitive landscape for ad buyers
Linear TV has been highly competitive regarding premium ad space. However, the availability of a premium CTV monetization solution and ad marketplace provides a fair deal of exposure to CTV ad inventory. This enables media owners to establish various demand relationships and advertising deals. With such solutions, you can simultaneously send ad requests to all supply-side platforms(SSPs) you are working with and receive quick responses.
5. Power of the Internet of Things
The future of connected devices is expected to witness a giant leap in the coming years. And one of the reasons behind this is an improved ability to click on advertisements via mobile remotes or retargeting via mobile devices. 
CTV, combined with smart home technology such as Google Home or Alexa, can lead to a more advanced level of integration like never before. 
6. More improved real-time reporting
Precise analytics is one of the crucial factors that streaming provides. Advertisers always prefer real-time log-level data for better decisions. 
On the other hand, the linear TV marketplace is slow and fragmented. It might take weeks to months to know about ad inventory availability and the actual delivery schedule of the ad campaigns. 
Advertisers can almost instantly know when the ads were delivered on Connected TVs. Brands can monitor real-time metrics in connected TV advertising and use the data for modifying future campaigns. 
The Future of CTV Advertising is bright!
The existing gap in viewing experience between linear TV and video streaming is reducing rapidly. The cord-cutting audiences are coming back to television via CTV. Additionally, the concept of binge-watching scheduled content on-demand is a big enabler for video content consumption on connected TVs. To sum up, the delivery of the Big screen experience of TV on digitally connected devices is simply accelerating and does not seem to stop. So, considering the gleaming future of ads on CTVs,  brands must leverage all opportunities.
Aniview's complete CTV/SSAI Platform for CTV media publishers enables the delivery of video ads across web, mobile & CTV/OTT platforms seamlessly with an AI-powered optimization layer and next-gen features for managing inventory, demand channels, and Ad delivery with ease.
Get a Demo to explore more!