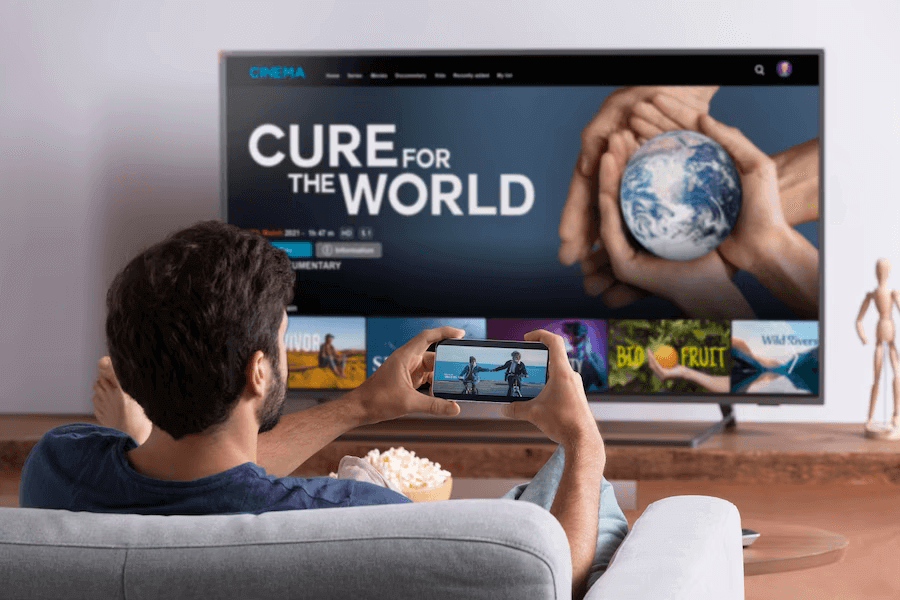 Go Over the Top: How to Master OTT Marketing
With OTT Marketing continuing to grow, it's giving rise to new ad technologies like video server software, ad players, and more. Most importantly, it's also opening new opportunities for brands to advertise their products and services.
This article will discuss what OTT is, its benefits, and what it means for your brand. In a hurry? No worries. Here's a summary video:
What Does Over-The-Top Marketing Mean?
OTT marketing is the delivery of advertisements directly to viewers over the internet through online video streaming. It gives advertisers the freedom to move without any pre-planned broadcast scheduling or geographical limitations.
OTT marketing involves running video ad interruptions, sponsor content, banner ads, and more. These ads can be displayed across the following video streaming devices:
Personal Computers
Smart TVs
Mobile Devices
Gaming Consoles
Streaming Boxes (Apple TV, Amazon Fire)
HDMI Sticks (Roku, Chromecast)
The streaming service Hulu, for example, offers an advertising platform with the potential to reach its 92 million ad-supported viewers. Hulu is one of many OTT video streaming platforms that companies and brand marketers frequently use.
Over the past decade, we've already noticed the growing shift from cable TV to streaming services. According to a report by TechCrunch, 46.6 million households will cut the cord by 2024. With the rise of cord-cutters and online streaming viewership, OTT marketing is reshaping the paid media landscape.
Benefits of OTT Services
OTT advertising can meet a wide variety of marketing and sales initiatives, thanks to its growing capabilities in measuring, scaling, and targeting. Here are some of the notable benefits OTT marketing brings to the table:
High Reach: There are over 193 million OTT users in the United States alone, and that means you are likely to reach a huge part of your target audience through OTT marketing.
Data-Driven Targeting: Unlike traditional TV commercials, you can serve OTT ads to target specific audiences using collected data and trends. For example, you can use behavioral data based on what content they are watching and which platform. You could use this data to fine-tune your ads or decide where and how you're going to release the video ad.
High Ad Completion Rate: According to a report by Adweek, 98% of OTT viewers watch the entire ad shown to them. Promoting your brand on a streaming platform brings high ad completion rates and provides a stronger impact on your intended audience.
Minimizes Ad Waste: OTT marketing's precise audience targeting capabilities minimizes and eliminates wasted ad runs. If someone is interested in camping gear, they will most likely receive relevant ads from brands in that category. This allows brands to not only increase awareness but raise their chances of turning viewers into paying customers.
Your Brand and OTT Marketing
OTT marketing drives brand engagement in many ways. Through OTT, brands can choose when and how they will air their marketing campaigns to hit their target demographics.
Examples of this are brands like Filippo Berio olive oils and Maker's Mark bourbon whiskey. Investing in OTT gave Filippo Berio a 44% lift in brand awareness, while Maker's Mark increased 2x in ad recall and 2.5x in brand awareness, based on Hulu case studies of the brands. Both brands have also become popular mainstays on the streaming platform.
Instead of spending on traditional ads, brands can directly and precisely reach new audiences through multiple OTT ad platforms.
Streaming services and OTT marketing are disrupting the industry for good. Traditional TV viewership will continue to slow down, and streaming platforms will continue to grow.
By adding OTT marketing as a new channel to your marketing mix, your brand will have an amazing opportunity to reach an even larger audience while being one step ahead of the competition.
Trusted by CTV/OTT Partners the World Over
Aniview offers innovative monetization solutions for connected TV and over-the-top ad partners. We have partnered with more than 300 companies and networks worldwide, delivering over 10 billion monthly impressions using our patented technology.
Get in touch with us today to learn more about our OTT solutions and services.